by Ali Jaswal, Jiang Chao, Liu Tong
As the sun rises and street lights turn off in Lahore, capital of Pakistan's eastern Punjab province, the city wakes up and gets bustling with life.
As the day begins, Zubair Tufail, a team supervisor of operations at a converter station of ±660 kilovolt Matiari-Lahore high-voltage direct current (HVDC) transmission project in a suburb of Lahore, starts his daily work.
A 26-year-old native of Lahore, Tufail joined the project as an electrical engineer after graduating from the University of Engineering and Technology, Lahore.
"At the start, we were just fresh engineers from the university and there was no other project in Pakistan related to HVDC, so we had no knowledge of HVDC technology. An experienced Chinese engineer was assigned to every Pakistani engineer on the project, who used to teach us like a university teacher. So whenever we need help, we can call them and they are always available," Tufail said.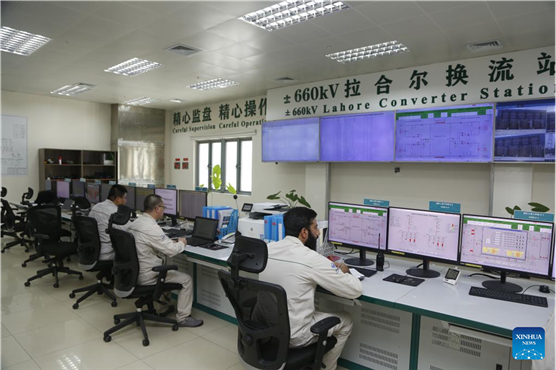 Zubair Tufail (R) works in the control room at a converter station of ±660 kilovolt Matiari-Lahore high-voltage direct current (HVDC) transmission project in a suburb of Lahore, Pakistan, July 4, 2023. (Xinhua/Ahmad Kamal)
This was Pakistan's first HVDC transmission project funded, constructed and operated by the State Grid Corporation of China (SGCC) under the China-Pakistan Economic Corridor (CPEC) framework. The project was officially put into commercial operation in September 2021.
Launched in 2013, CPEC is a corridor linking the Gwadar port in southwestern Pakistan with Kashgar in northwest China's Xinjiang Uygur Autonomous Region, which highlights energy, transport and industrial cooperation.
In 2015, the two sides signed more than 50 cooperation deals and agreed to center the development of the CPEC with four key areas, namely, the Gwadar Port, transport infrastructure, energy and industrial cooperation.
It is the first project to adopt ±660 kilovolt direct current technology outside China with complete Chinese intellectual property rights, according to Shan Shewu, chairman of China Electric Power Technology and Equipment Co. Ltd., a subsidiary of SGCC.
The converter transformers, one of the most important components of the project, were developed in China's northwestern ancient city of Xi'an, Shan said.
Xi'an, a city with a history of more than 3,100 years, served as the capital for 13 dynasties in Chinese history, including Tang Dynasty (618-907), when the city was known as Chang'an.
In 1992, Lahore and Xi'an became sister cities, and the development of the two cities has since been interwoven together.
Zhao Qi, the general manager of China XD Electric Co., Ltd., told Xinhua that at the end of 2014, the XD group provided technical solutions for the project, and on top of that, the company successfully won the bid for the project's converter transformers, said Zhao.
Xi'an XD Transformer Co., Ltd., a subsidiary of his group, produced 28 converter transformers and 47 reactors that are being used in the Matiari-Lahore HVDC transmission project, he added.
The eastern part of Pakistan is hot with the temperature exceeding 50 degrees Celsius most of the time in summer. For this reason, the design team of XD Group optimized the structure of the main components and the installation method of bushings.
From design and production to installation and application, the Chinese-built converter transformers have played a major role in the country's power grid, said Tufail.
"Our project has greatly reduced the loss in Pakistan's north-south power transmission and reduced power outages caused by transmission loss, which is why our industrial sector is now functioning well," he said.
The project has now operated safely for over 1,000 days, with a cumulative transmission of 26.8 billion kWh, guaranteeing the electricity use of 10 million households in Lahore and its surrounding areas and facilitating the socio-economic economic development in the area.
"I am very proud to be able to work on a CPEC project and do my part for the progress of the country," Tufail said, noting that Pakistani and Chinese colleagues not only cooperate closely but also celebrate each other's festivals.
"Our relationship is very strong, we are like brothers," he said.
As of 2022, CPEC has brought 25.4 billion U.S. dollars in direct investment to Pakistan and has created about 236,000 jobs for the country. Furthermore, it has helped Pakistan generate 8,000 megawatts of electricity and build 886 km of the national core transmission grid, according to the Chinese Embassy in Pakistan.
"This 886-km-long network connecting the power projects from Pakistan's northern mountains all the way up to the southern parts represents a deep bond of friendship between the two countries," said Pakistan's Minister for Power Khurram Dastgir Khan while commemorating the 10th anniversary of the project.
Editor: Galia